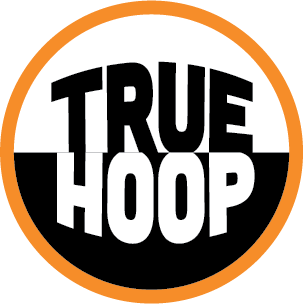 "No media group captured and chronicled this period of massive growth in the NBA more thoroughly than TrueHoop."
—Lee Jenkins, preeminent NBA journalist
"Guys like Henry Abbott actually are on to something."
—Kobe Bryant in GQ
TrueHoop is back. Starting here, now, with these words.
The mission is to tell true stories of the NBA, with some mix of cojones and compassion. The approach is to build a growing new media company. The day one team: Brilliant and upbeat legal mind Judy Goodwin signed on as COO. The most insightful basketball analyst I have ever known, David Thorpe, is in. Don Skwar, longtime ESPN executive who edited the Boston Globe sports when it was the best section in the country is on board. A lot of other cool, smart people are helping out.
TrueHoop was born in 2005 as an independent blog, featuring "warts and all" NBA coverage. ESPN acquired it in 2007, and a cast of hundreds joined the effort, helping it become many things, including:
Stories that literally changed the leagu…
Keep reading with a 7-day free trial
Subscribe to
TrueHoop
to keep reading this post and get 7 days of free access to the full post archives.