Discover more from TrueHoop
Award-winning hard truths about the NBA since 2005.
Over 17,000 subscribers
Cam Thomas is a top-ten NBA scorer
"You have every chance to be Jordan Clarkson. Or you can be a better-scoring Kyle Lowry. Make your choice."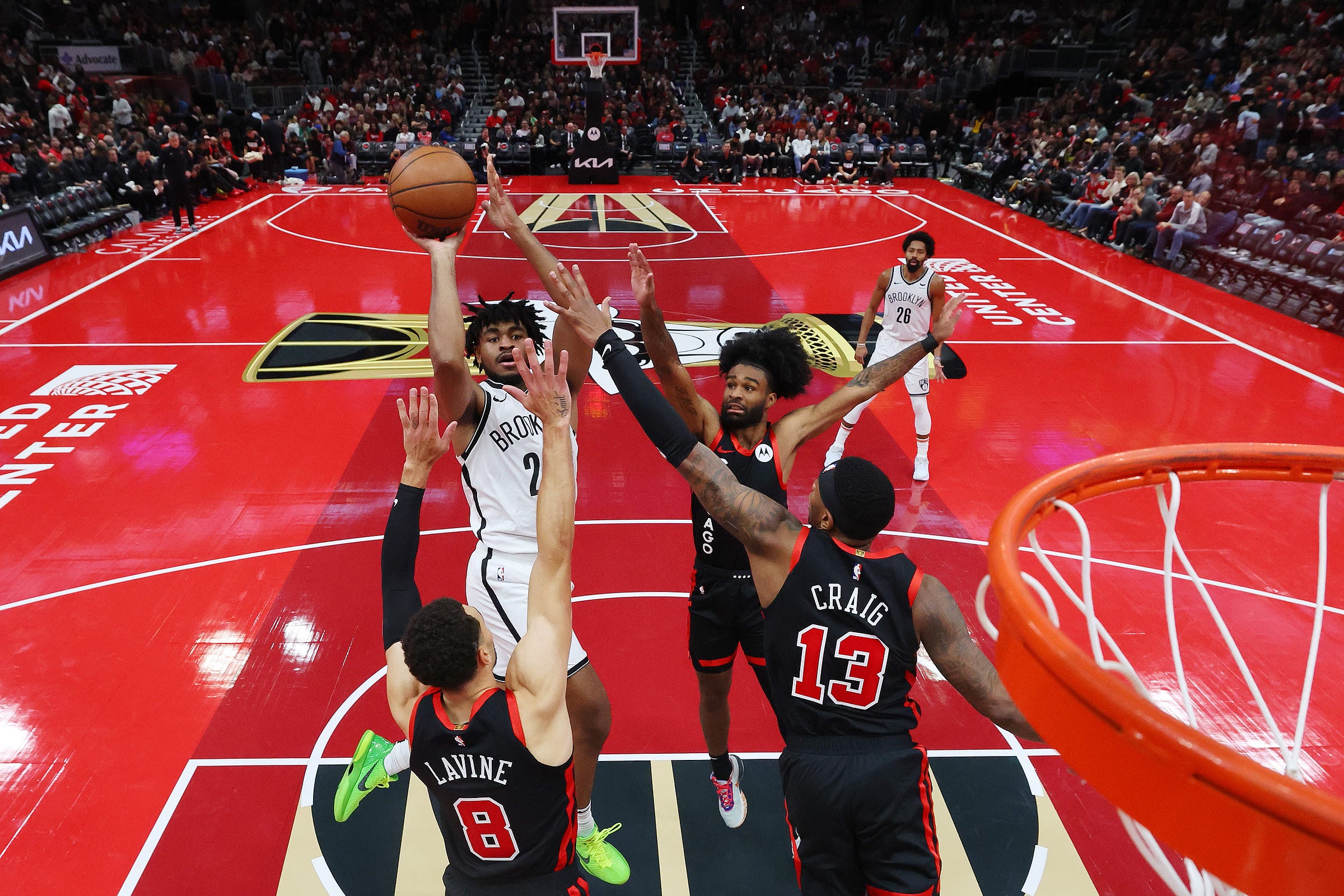 Cam Reddish is a Laker. Cam Payne is a Buck. But half of the NBA's Cams are Brooklyn Nets.
Cam Johnson is 27, 6-8, and a former Suns lottery pick from North Carolina, who has been out a lot lately with a calf injury. Speaking broadly, though: everybody loves Cam Johnson. 
Then there's Cam Thomas, who's a bit more a lightning rod. He just turned 22, was drafted at the end of the first round a couple of years ago. He's listed at 6-4, but looks shorter (and declined to be measured at the pre-draft combine). When he played with Kevin Durant, they razzed each other in public in charming ways. When Cam hit a huge shot, no one was happier than KD. Cam Thomas came to seem a little bit like Durant's mini-me. 
Last February, when Durant was traded to the Suns, it was the smaller, younger, lower-drafted Cam who turned heads by becoming the youngest player in NBA history to score 40-or-more points three games in a row. When he did that, it started to seem like everyone loved that Cam.
Except me.
33 minutes and 15 seconds into this podcast (from the archives), we started getting into it. In a nutshell, my position then was: Cam Thomas had been, at that time, a pretty mediocre player in impacting wins, and those three games didn't change that. (And they didn't even touch off a meaningful uptick in scoring. The next time he scored 30 was months later, in the last game of the year, a meaningless blowout loss to the 76ers.)
But it's a new season, and seven games in Cam Thomas is now the NBA's seventh-leading scorer (sixth is Durant, eighth is Nikola Jokić) as measured in points per game.
Jarod may have razzed me with that fact, just a little, in Monday's editorial call, which definitely prompted me to go on some kind of rant—which I then kind of wanted to do over, in a better way. So Wednesday, in a conversation that has been lightly edited for your reading pleasure, we dove back in:
HENRY: Jarod, why don't you start. I know I've said a bunch of shit about Cam Thomas on the podcast, and yesterday. How does that sit with you? 
JAROD: Well, it's all hilarious. As you've said a million times: there are a number of guys who can pop up and score 30. And you know, the likelihood of that being something you can continue to do is low. There's so many guys like that in the NBA. But who can become winning players, right? It's just not a lot of them. And that's all true. 
All I'm saying is, Cam Thomas seems to have a very good talent for scoring for someone so young. He's 22. And he's now the featured player on the Brooklyn Nets. Mikal Bridges came over last year and was leading scorer the last however many games of the season. But it's Cam this year. Over 28 points a game—like he is a legitimate guy! For someone so young to have that many 30- and 40-point games, I just think it's something that deserved attention. 
As you often say, defense is half the game, and the stuff that's hard to see is important. And I'm 100 percent in agreement with that. But scoring is also important, right? 
HENRY: As you say, he's ascendant. He's improving. It's an exciting time in his career, in a giant fucking city. I appreciate that.
John Hollinger just wrote: "It's abundantly clear Thomas is something; a swashbuckling sixth man, at worst, and perhaps a big-time scorer."
DAVID: There are players who get drafted because they're seen as a guy that can really fill it up. Sometimes they go first round, but often not. Jordan Clarkson was a 46th pick and was just a bucket getter. Maybe you remember James Bouknight, whose name you haven't heard in a while. There was a player from LSU named Marcus Thornton, but Marcus didn't light the league on fire. I was not a fan of his, but he went through some stretches where he could score in bunches (he scored 40 or more points twice in seven years). 
But Cam's done it five times now, including the other night he scored 45 against Milwaukee, a pretty solid defensive team. And so that really becomes the issue with Cam. He's at 28 points a game now; what does that end up being? I doubt it'll stay at 28, but will he finish the season averaging 15? More, I suspect.
Two things: One, he's not a month into being 22. Like, he absolutely would be First Team All-American if he was still a college player. He'd lead the country in college scoring for sure. He's a young guy. 
Secondly, he's pretty small. When you're that small, you are automatically a liability as a help defender. There are almost no exceptions. A guy who's listed at 6-4 but is really maybe 6-3 is to be taken advantage of as a helper. Take almost anyone you want 6-6 and taller—especially longer and stronger as most of these guys are having them guard the corner shooter—have them tag on a pick and roll. They're leaving their corner shooter to go help on the roller above the dotted line, so they can at least provide some semblance of resistance to that roller. 
The little guy's got no shot. It's up to the coach and the player to find ways to not be exposed like that. You can't let him be the attack guy in that role when he can't do anything. It's the same thing when you're closing out shooters: A lot of today's game is about closing out 3-point shooters. To do that in a way that bothers the NBA's long scorers, you need to be not just in position, but with your hand really high off the ground. 
There's only so much Cam can do. There's a lower ceiling for players his size as helpers compared to the bigger guys. 
He might end up being a positive player and net-positive player for the first time in his career. He's gotten better. And he's got to continue to make that growth, you know?
HENRY: This is where we are, right? He's had explosive growth. And he's something like—in these embryonic, not terribly meaningful early-season advanced metrics—the 57th most productive player in the NBA.
DAVID: Huge progress for him! He was really bad before that.
HENRY: Indeed. But also there are a lot of players ahead of him in the advanced metrics that nobody's talking about because they don't score. (FWIW, four Timberwolves are, for the moment, in the NBA's top 20 in defensive box plus-minus; Kyle Anderson leads the league.) 
But I know why we're talking about this player. We love this sport; we grew up playing it; we have dreams about it. Right? They something like a billion people around the world play or follow the sport. Ask anyone: "What's your basketball dream?" They're probably going to describe themselves doing something like what Cam Thomas does. It's going to be a play that starts with the ball in your hands, dips into your bag of tricks, and ends in a bucket.
That's when this sport is most fun—and that's also the fantasy of NBA players and a lot of coaches and GMs too! These are the most recognized skills in the game. If we're talking about what makes the game beautiful, there's no argument. It's a thing to love.
But also it's where the advanced stats conversation goes a little off the rails because there's a different question about how you win a championship. And that's where I'm making a sad trombone sound about Cam's early career. It's not that it couldn't happen that he'd become a titan of winning. It's just incredibly unlikely. 
For starters, he has been a terrible defender. And David's telling us that, even if he starts focusing on that end, he's unlikely to improve dramatically. He's a hard negative defender even today, after improvement. Because of his size and his disposition, he's unlikely to ever sniff the top 10 of any statistic based on his team's productivity while he's on the court. 
I take no joy in saying that, but it's just that we've seen so many candidates attempt this, and it seldom happens. Damian Lillard did it last year—had offense so good he was a leading player even as a bad defender. 
But if you're just curious about what causes wins, it's very seldom small, high-volume scorers, who use the ball a lot, don't shoot super efficiently, and play bad defense. It's one of the NBA's most over-attempted accomplishments. 
Meanwhile, the advanced stats just adore in-his-prime Kyle Lowry, who did none of that. Somehow Kyle Lowry is almost as valuable as LeBron James in advanced stats because when you're good at everything Cam Thomas doesn't do, the wins pile up around you.
And here's where it becomes about the salary cap: We probably all agree that you don't pay Cam Thomas the max. So, he won't be one of your two stars, eating up all the cap space. That means, to be part of a top contending team, he probably has to be an incredible value, and fit into the cap around other stars. He has to overperform his contract.
But I already know he won't do that because he has the most overvalued skillset in the game! Light the Bucks up for 45, make SportsCenter, and somebody is going to pay you. He won't be a superstar, he probably won't be great at defense, and he won't be cheap. 
Maybe a guy like that can be on a great team, as that one bench scorer, if the whole rest of the roster is good at defense. But even then … Jordan Clarkson is pretty expensive!
DAVID: Unless Cam becomes at least an average defender—and that's a big jump for him—he's far from being worth a huge deal. 
HENRY: And big improvements in defense are rare! JJ Reddick did it, as did a few others who were once as bad as Cam. But it's not likely. 
DAVID: I blame my profession—people who do what I do. They don't look at defensive metrics much. Where am I getting beat? How am I getting beat? What am I doing wrong footwork-wise? Where are my eyes? Where's my head? 
One thing I work on a lot with the guys is just getting your arms up habitually. I worked with one player once for months while he was recovering from injury, and we spent a ton of time talking through how to improve. After his first practice back he called to say: My shoulders are killing me! I had no idea what he was talking about. I said, What were you doing? He's like, Coach, I didn't realize how much you got in my brain. I kept my arms up the whole time, and my shoulders weren't ready for it. They're so sore. 
That's one little thing for Cam Thomas to do. It's amazing how you'll get more deflections and you'll inhibit more passes that otherwise might be turned into buckets, because your hands are up or your arms are wide. Little things like that really matter—always knowing where your guy is, finding him early if he's a 3-point shooter. One of my big things is: if you can't get the steal or if you can't get the defensive rebound in traffic, don't let the bad guys get it. 
HENRY: David, if we're listing the components of winning basketball, they go on forever! I just re-read the classic Michael Lewis story about Shane Battier being the no-stats all star. When a shot goes up, Battier runs over and puts his butt on the Lakers' best rebounder, Pau Gasol. There's something like that to do every few seconds. If you're amazing and quick-thinking and obsessed with all that, your team's going to win a lot more when you're out there.
Very little of that is in people's basketball dreams, though. 
We just had an election. My wife and I were just talking about the school board, which she was on for a long time. New members often arrive with all these ideas about how things should work. But after a while, you end up getting these very detailed reports about how things do work. How well the district teaches English as a second language, who is and isn't learning math, what percentage of eighth graders are ready for high school, which communities are underserved.
Once you get into all that, it seems very distracting to push forward the theories you had before you had all the information. All those things about how you thought it should work. It doesn't! The trick is to make the thing succeed in reality. That can be humbling. It's true in the NBA, too. This is why I like plus-minus based stats, and epidemiological studies. Studying real-world outcomes is an amazing way to focus on what matters.
We thought that you could win basketball games by beating your man, by Allen Iverson-ing that dribble and making that guy fall over and look stupid. But the reality is, creating your shot like that matters, but—guessing—seventy percent as much as we thought. And if taking tough contested 2-point shots is all you do, that means there are so many moments of the game when you're not helping your team. 
Especially today, when more teams are more competitive and spread the floor and run more complex actions. To me, a player whose brain is focused on this one line of attack—through or around a defender and then between me and the hoop—is solving a riddle far simpler than modern team basketball. It used to be a game about isolation play, but not anymore.
Now the game is 10 moving parts, a spider web of evolving lines. The best players exploit the best opportunities in all that. They have sensors across the whole fucking spider web. What a mistake to not be thinking about the whole court! You hurt your team a little with that. There'll be a lot of open people, or opportunities, that your team can't use when you have the ball. (Cam's triple-teamed in that photo above. Knowing him, he probably scored anyway—but the Nets had the whole defense upended and didn't find an easy look.)
There are fewer and fewer instances in the modern game where we need you just to torch this one defender. It's an increasingly niche job if you're not a superstar. Meanwhile, scorers still get paid. Jordan Clarkson makes $23 million—more than twice Kyle Anderson's $9 million salary. And so it's tricky for non-star ballhogs. 
JAROD: That's the next evolution, right? Like the team that really understands that well. And it's like: No, we don't need you to do all that. We have one guy who is the shot-creation guy, and the rest of the roster is everything else that might be good enough to win.
HENRY: I think that team was called the Golden State Warriors! To me, when they leave Draymond all alone in the paint, and Steph has the ball, the whole system recognizes it and Draymond gets to dunk. Do the Nets find open Ben Simmons at the same rate in a Cam Thomas offense? Maybe, we'll see. Their offense is pretty good. 
But if the answer was "yes" to this and questions like it, Cam would rank higher in advanced stats on offense. Kyle Lowry was so good without taking anybody. He's not even athletic, and he's got short arms. But he's a useful tool in finding where the defense is weak.
DAVID: He used to be, anyway—and an incredible defender! 
JAROD: Watching Cam up close, I'm just gonna watch him on defense and be like, "What are you doing on this end of the court, my friend? Yeah, like what's actually happening over here?"
DAVID: He's getting better. That's the one thing I want to stress again: He's just starting his 22nd year. There's a lot to worry about: not turning the ball over, moving the ball. But you've got to care about this side. That's both on and off the ball, and there's only so much you can do off the ball because you're little; so you've really got to make sure you're not getting exposed on the ball. Do your part on rotations off the ball, and then you'll be a much more valuable player. 
If you don't do that, you may still get paid. And we can't criticize them for wanting to get paid. But this is a castigation of the teams. They shouldn't be paying these guys unless they actually help winning, not just scoring. That's what we're talking about here. He's got to recognize that just because you're scoring more and more efficiently and more often, that doesn't mean you're actually helping your team win if you're not doing those other things. And that's where the advanced metrics, I think, have really helped. The informed people are even more informed. The TNT studio is not, because they're not paying attention to this. 
HENRY: In that Michael Lewis "No Stats All-Star" story: going into a matchup where Shane Battier intends to guard Kobe Bryant, the advanced stats show that stars keep having bad nights against Battier. 
But on the TV broadcast, Gary Payton and Chris Webber find that hilarious, and both predict Kobe will have no trouble. Kobe does the stuff people think should win. Of course, all night Shane directs Kobe into slightly more difficult shots; Kobe misses 22 of his 33 attempts; the Rockets win by 12; and Michael Lewis has a focal point for his story.
But I wonder if Payton or Webber, or any large number of people, noticed Battier's efforts. These things that win remain undervalued.
One thing that means: if you're a GM, and pay the person who blows minds in highlights, you don't get fired for that. They don't think you're stupid for that, which helps you keep your job. But if you pay people for unseen value, you'll be seen as suspicious, and you'd better win a title.
The history of the league is full of so many guys—World B. Free, George Gervin, Allen Iverson, Kiki Vandeweghe, Pistol Pete—who scored like crazy, but had a hard time winning because they needed their teammates to pick up so much slack, especially on defense.
DAVID: And we have help defense now. They never did back then. Now if you don't do a good job as a defender, you really get scorched worse than ever. Cam has a hard job. At least he's got the offensive game to give himself a chance to be a plus offensive player. If he's net neutral on defense, that'd be great.
To me, Henry's argument is really, "curb your enthusiasm about guys who can really score but can't guard anybody. You've got work to do, young man."
HENRY: Yes. If you look at the points-per-game scorers list, and then look at the top performers on Dunks and Threes or similar, you'll see some of those big scorers fall way down the list. Those are the players we're talking about. 
DAVID: If they don't turn the ball over a lot—and if they're willing passers—to me those guys can be sixth men. I think there's a place for that in this league. What I'd say to Cam Thomas is: "You have every chance to be Jordan Clarkson. Or you can be a better-scoring Kyle Lowry. Make your choice."
---
Thank you for reading TrueHoop!