A special suitcase just for wine
Delonte West bystanders, and Lamar Odom on Mark Cuban
TrueHoop looks a little different today! Many thanks to Substack for a cool new homepage at TrueHoop.com, author bios, and new photo captions.
Three anecdotes from the NBA's digital landscape:
Lamar Odom on Mark Cuban
Early in a recent episode of Vince Carter's Winging It, Carter mentions off-hand that Trae Young, his current teammate and one of the NBA's highest scorers, can't dunk. 
Kind of a telling modern-NBA moment, eh? (You can score a million points without being able to attack the rim?)
Then Carter kind of corrects himself: "I mean he can dunk … it's touch and go."
But the real story comes later, when Lamar Odom joins and the two reminisce about playing for Mark Cuban's Dallas Mavericks. Odom says Cuban seemed really laid back when he first started playing for him, but that changed once he stepped on the court: "I wasn't used to the owner damn near heckling me from the stands," says Odom, "cursing me out from the first row when I'm on live stage."
In his book, "Darkness to Light," Odom remembers Cuban screaming, "you're so fucking slow and out of shape," and, "waste of fucking money."
Odom seethed. "It was hard for me to humble myself down to that degree."
Odom says it was a "very vulnerable time of my life" while Cuban was a "very powerful young man." The combination was unsettling.
Then there was this one night in Memphis. In his book, Odom writes: "Cuban extended his right foot and kicked my shin. 'Come on motherfucker!' he shouted. I was stunned. This wasn't a tap."
(Do billionaires need "good touch, bad touch" training? We recently had another story like this. Or … do people do the hard work of making billions specifically so they don't have to trifle with such limits?)
Odom almost lost it. "Just so much went through my head," he says on the podcast. "I'm a young black man, I just think he could have handled that a little differently. I respect him. He's a great businessman. I just think that was the wrong move. And I probably was like two seconds off his ass. It probably would have been like a Latrell Sprewell incident." (Sprewell was suspended for almost a year for choking his coach P.J. Carlesimo many years ago.)
A lot of NBA history traces the delicate work of attempting to trust each other across America's racial divide. This was a low moment.
Carter remembers watching Odom closely, feeling all of this, wondering what would happen next as the two argued: "All of a sudden [Odom] went from 6-1 to 6-10. He stood up, I was OK, that's when …"
Carter grabbed Odom's arm tightly, leaned in, told him to chill out, that it wasn't worth it.
"Vince basically saved Mark Cuban from getting fucked up that day," says Odom.
CJ McCollum: "I have a suitcase dedicated to wine."
CJ McCollum's Pull-Up podcast co-host Jordan Schultz recently asked the Blazer guard how he packs for road trips. The team, McCollum explains, packs and moves one suitcase, with his custom NormaTec recovery pants. McCollum packs three more suitcases: one for outfits; another for workout gear, socks, and underwear ("draws"); and a third for … wine. 
If you were having a hard time picturing a wine suitcase, I found this:
Before you roll your eyes: Every episode of Pull-Up subtly or overtly reinforces the idea that
McCollum is a front-row-seat, A-student (star of his Lehigh college basketball team and sports editor of the college newspaper that covered that team) workaholic determined to earn every dollar. He recorded this podcast from an 11-day road trip during which he played all but one game despite being sick as hell. The podcast opened: "As you can tell from my voice I'm still recovering from sickness. Wifey is sick as well. I'm off the z-pack [antibiotics]. Mucinex. Allegra-D. Tons of vitamin C. Echinacea. Fish oil. You name it, I've taken it. … It makes you really appreciate great health honestly when you can't really do the things you normally do--like walking to the bathroom is a real task because you're exhausted."
The NBA life is pampered in very specific ways, like how many suitcases you can bring and how much Pinot Noir is in them. But it's harsh in others. Even if you can barely make it to the bathroom, you have to get up for battle.
And, CJ explains, he likes nice wine. So do his teammates--he mentions Carmelo Anthony--and plenty of other coaches and staffers in the traveling party. "I always try to travel with wine," he says, "so that I'm able to share." 
He lives in a strange world of airplanes and hotel rooms, with odd hours of free time, sometimes in the air. They talk about wine. He likes to share. It's like a book club, but with bottles. Snuggled in their own suitcase.
Delonte West
A lot of people suggest avoiding the recent videos of former NBA player Delonte West. One of the arguments: It's awful. Another: Humiliation doesn't help anybody in his family, and they have been through enough. West has been suffering from reported bipolar disorder in public and private for a long time. (In 2013, after falling out of the NBA at a young age, he talked about how badly he wanted to be back, and about the baby he was about to have. He never did play in the NBA again.)
For many hours, I didn't look. But then, at some point, I went over to TMZ anyway, and watched both videos. 
One is an eerily mundane scene: some cars, on a two-lane access road, under an overpass with a sign for a left exit to 210 South (toward Indian Head), yards from an MGM Casino. If anything is America, this is America. 
Except the cars are all stopped. The road is effectively closed, because of … what?
A hellscape. A man in jeans, white sneakers, and a black leatherish jacket is punching a body that is already down. Then he stands up, looking a little exhausted and too calm, and goes about stomping the body's head with his foot. 
Maybe you've seen fistfights. Maybe you've been in them. This moment is next-level audacious. This attacker is:
standing in the middle of busy Oxon Hill Road at about 9:45 am on a Monday

committing a horribly violent crime, including what appears to be a willingness to murder

in front of many witnesses.
Who courts death or prison so calmly? Lots of people, in the few seconds of the video, all the bystanders, stay in their cars, watching (and at least one, obviously, recording), as West takes one crazy hell of a beating. Later we see a still image of--is it a discarded pile of clothes? No, it's a man face down on the wide shoulder.
Nobody drove to work that MLK day expecting to find themselves in a life-defining moment. Helping might have been the scariest thing in the world. (In the digital world lurking always feels like a good option. In the physical world, doing nothing is often harsh.) I've been asking myself hard questions about what I would have done, and I don't have any great ideas. But doing nothing feels wrong. The worst fight I've ever seen was broken up by a tiny elder woman, who marched forward from the crowd to tell the two bloody men to stop it. Awesome job. Common sense, peace, decency, dignity; we want those things.
A Prince George County Police press release reveals some great news: after the video stopped, evidently somebody did help.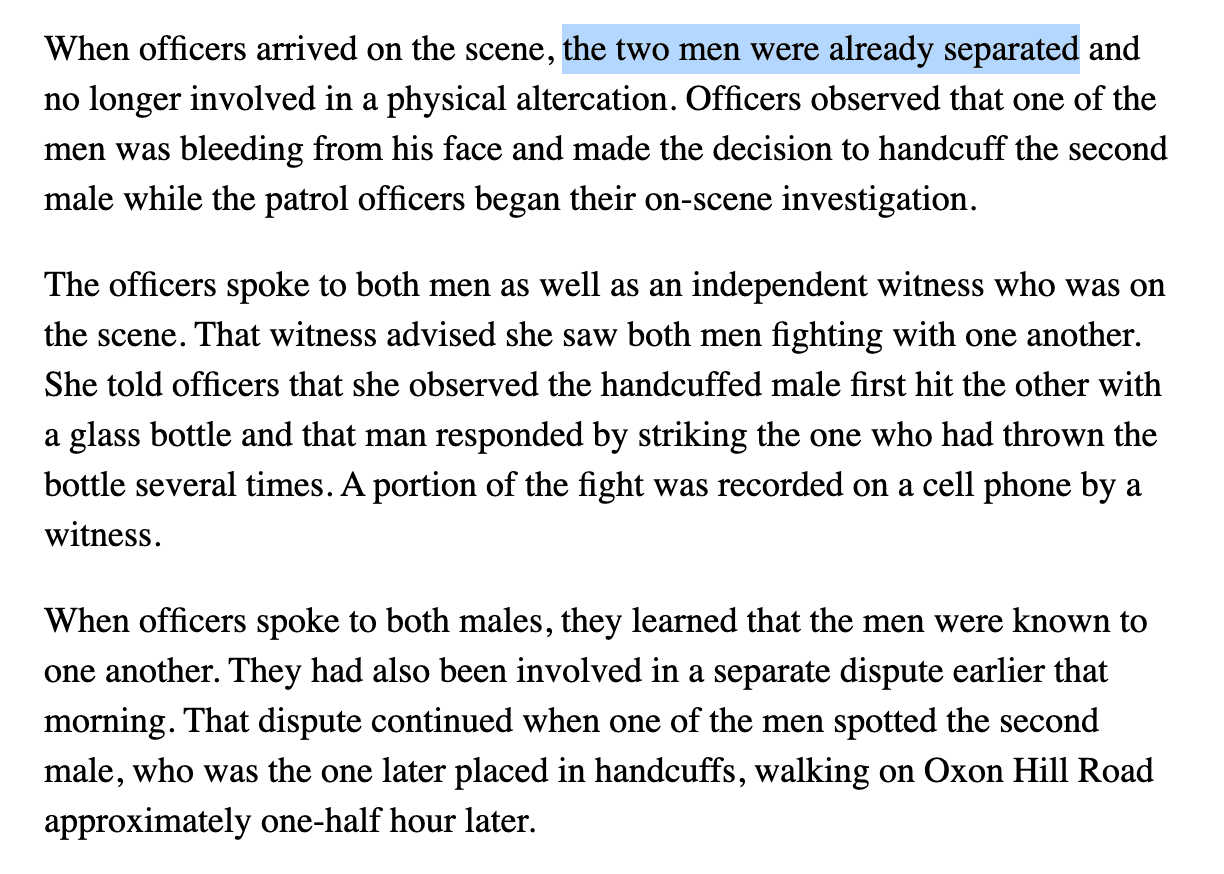 Here's what's amazing to me. The guy in the white sneakers--one of which stomped West's head--is free right now. As is West who, the press release above suggests, started things by hitting that guy with a glass bottle. Nobody pressed charges, nobody got arrested. Wow. The release makes some reference to an investigation. 
There is someone in trouble, though. One of the police officers has been suspended for shooting and releasing the second video, which shows West in the aftermath, handcuffed. 
You can hear a voice off camera asking West what happened to the gun the other man may have had. West screams twice that he doesn't "give a fuck." Then he yells that he's the leader of the Navy Seals, and that he's the real president. 
The off-camera voice says "all right." But it doesn't seem all right. As led by his former teammate, Jameer Nelson, the general reaction is that West needs high-quality healthcare. 
It appears Delonte's college coach, and many others, are banding together to see what they can do. And, a few years ago, the NBA and its players funded a groundbreaking set of benefits for retired players. I don't know if West is enrolled, or if it will apply to his future care. (TMZ talked to his former agent, Aaron Goodwin, who says West does have a supportive network around him.) But I do know that the powers that be set aside resources for retired players needing care. That is not common in sports, and it has the potential to be helpful. 
---
Later this week: Is it time for the Rockets to push the panic button?